Sacramento SEO
We help buisnesses in Sacramento get more leads and phone calls.
Get a free SEO Quick Scan report below.
We're a Sacramento SEO company helping you boost your SEO, and rank higher in Google.
If you search for a Sacramento SEO company, you'll notice some of the results are from out-of-town firms. You may have reasons for wanting to work with a online marketing agency based in the Sacramento Valley. SEO often seems mysterious, and you might feel more comfortable talking with someone face-to-face.
By working with a Sacramento SEO agency instead of an out-of-town SEO firm, you can shake our hand in person, and talk to us face-to-face about your SEO campaign.
We will only recommend strategies that will improve your search rankings for the long term. We want to see our clients succeed, and legitimately grow their businesses.
Here's Some of Our SEO Capabilities
On-Page Optimization
To rank well in local SEO in Sacramento, you need the right content on your pages. We will figure out exactly what needs to be "dialed in" for you to rank higher in local Sacramento SEO.
SEO Reporting
We give you regularly scheduled Google ranking reports that show you exactly how you're doing, and how much search traffic you're getting from Google.
Content Marketing
We'll help you produce content for your website that drives traffic and qualified leads.
Link Building
We build relevant and categorically related links from other websites back to your site.
We Partner With You
Most of our clients keep working with us for several years. We develop a true partnership in helping you grow your business.
Revenue Growth
You're investing in SEO to improve your lead generation and increase your revenue. Our goal is to help make you more money.
We're One of the Top Rated Sacramento SEO Experts According to Clutch and UpCity
We're consistently listed as one of the top 2 recommended SEO companies in Sacramento (of 88 companies) in Clutch.
UpCity also lists us as one of the most reliable SEO agencies in Sacramento CA.
One of the Top 8 SEO Companies in Sacramento According to Expertise.com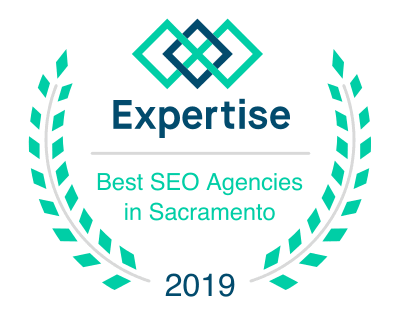 Out of 79 SEO agencies based in the Sacramento metro area, Expertise.com chose us as one of the Top 8 SEO Agencies in Sacramento for 2019.
One of the Top 3 SEO Agencies in Sacramento According to ThreeBestRated.com.
ThreeBestRated.com does a 50-point inspection of every marketing agency in various cities. Since the beginning of 2018, we've been one of the Top 3 Advertising and Marketing Agencies in Sacramento. ThreeBestRated does evaluations throughout the year.
Search Engine Marketing Consultants Based Right Here in the 916
Since opening our doors in 2012, we've talked face-to-face with hundreds of business owners in the Sacramento area about SEO. Though we've had out-of-town clients since day one, most of our internet marketing clients have been based in Sacramento.
Our headquarters is 25 minutes from Downtown Sacramento, and within a short drive of Roseville, Rocklin, Folsom, Rancho Cordova, and Elk Grove. If you need search engine optimization services in Sacramento, we're nearby.
Most of our Sacramento area clients found us by searching online for SEO, web design, or an internet marketing agency. That's what we want to have your customers do as well — Google for what they need and find you on Page One of Google.
Our Sacramento SEO experts have helped clients from Sacramento, Rocklin, Rancho Cordova, Carmichael, Fair Oaks, Gold River, Elk Grove and more.
Our Colleagues Vouch for our Internet Marketing Skills
It's one thing for us to toot our own horn. But, many of our friends with their own web agencies turn to us for SEO advice and SEO consulting.
We have appeared on digital marketing podcasts, guested on YouTube channels devoted to SEO and online marketing, and been quoted and interviewed in many leading web design publications. Very few of our peers in the Sacramento SEO community can say the same thing. It means something when so many of our web development and marketing colleagues give us their seal of approval.
Can we get your company to rank higher in Google and Bing?
In 2017, we moved from having SEO as a side offering, into making it our main offering, clearly stating SEO was the focal point of our business. Since then, every company we've worked with has had great SEO success, improved their Google search rankings, and generated more business than ever before from search engine optimization.
Case Studies from Our Sacramento SEO Company
Rick is the President of an industrial supply company in Sacramento. When we started working together, his website had yet to rank in the top 10 pages in Google or generate any leads. Today, they are on page 1 and 2 for 95% of their competitive search terms, and they get qualified leads every single day from organic Google search.
Rick Hayes

President, Raptor Blasting Systems

I hired John Locke to work on my SEO rankings and my internet presence has gone through the roof. I can't thank Lockedown Design & SEO enough for the increased sales that have resulted from their work!
Brandon, an auto repair business owner, went from not having a website at all, to ranking above every single one of his compeitors here in Sacramento. He even gets inquiries from Reno and San Francisco based on his stellar SEO.
Brandon Kelley

Owner, Classic Muscle

John Locke is perhaps the most genuine, honest and reliable person I've ever had the pleasure of doing business with. He doesn't only provide a service, he treats your SEO as if it's his own. He has a true passion for what he does. His results and the passion and pride he puts into his research is absolutely second to none.
These are just two scenarios in which we helped Sacramento business owners transform their companies into steadily growing empires. By leveraging internet marketing and SEO, we helped them generate more leads and more revenue than ever before.
Frequently Asked Questions
Here are some answers to SEO questions you might have.
How much does SEO typically cost?

While many SEO agencies have pre-defined "packages" at specified price points, we put together custom SEO campaigns for each client with specific scopes of work, price points, and durations. This helps solve the exact issues you are having, without wasting your budget on unnecessary tasks or "filler" line items.

What is included in your SEO packages?

We put together a custom SEO package for each client. Things that may be included in your custom package may include: content creation, web design and development, link building, social media profile creation, local citation building, review generation strategy, on page optimization, off page brand building.

Will I have to sign a long-term contract?

Your initial custom SEO campaign will be a monthly contract for a specific amount each month, for a set amount of time. The typical SEO campaign usually runs between 3 and 9 months, depending on how much work you need to see improvement. After the initial SEO campaign is complete, you can go month-to-month, usually for a lower amount and reduced scope of work.

What type of work will you be doing on my website?

Tasks that may be required on your website usually include: content creation, on page optimization, structured data creation, title and meta description optimization, custom web design and development, internal link building.

How will you measure success in my SEO campaign?

There are three main ways we measure SEO improvement: rankings for your selected keywords, organic traffic from Google & Bing, and most importantly, how many leads are being generated. We measure your rankings using SEO rank tracking software. Also, we look at your organic search traffic using Google Analytics – meaning we measure how much additional traffic you get strictly from organic (not pay per click) search. Lastly, we measure how many leads are coming into your site from contact forms and calls. At the end of day, the only measure of success that matters is sales revenue.

Will I receive regular reports on my current rankings?

We send you an update on the rankings for your selected keywords every two weeks.

How long does it take to see ranking changes in Google?

You should see improvement within three months for less competitive keyword phrases. For highly competitive keyword phrases, it usually take longer to see substantial movement.

Do you have referrals from past SEO clients?

We have a Case Studies page with several clients who have had great success with SEO. We'd be happy to make an introduction to past clients if you want to hear their testimony in person.

Who will be doing the work on my site?

John Locke will be overseeing the work for your SEO campaign. We may use our network of trusted contractors for larger or more complex projects. We will tell you every person that is involved with your SEO campaign and what role they are playing.

Are the SEO techniques you use "white hat"?

We only use SEO techniques that are approved by Google's communications. We do not use "black hat" techniques that put your rankings at risk, and we shun any SEO tactics that can incur a manual penalty from the Google Web Spam team.

Will I have to provide content for my site?

For most industries, we will help you create content as part of our SEO retainer. That said, the more content you can create internally, the more powerful our joint SEO efforts will be. For certain industries, like health care or attorneys, you will have to provide your own content. We will let you know if your industry falls into this category before we send a proposal.

What if I don't have a lot of money for SEO?

SEO requires a certain amount of resources for content creation, design, web development, and brand promotion. If your budget falls beneath our threshold, we will refer you to other consultants or resources that provide help in your budget range. You can also subscribe to our email newsletter and daily YouTube channel for free if you want to do-it-yourself.

Do you serve clients outside of the Sacramento area?

Yes. We have served clients in six different time zones, and we currently have clients all over the United States.
Who should you trust to be your Sacramento SEO company?
We focus mostly on SEO for manufacturing and industrial companies, but we regularly share notes with other SEO experts that we trust.
If you want to see what we're all about, feel free to contact us by filling out the form below. We will respond to your inquiry within one business day.
Updated
October 1st, 2020